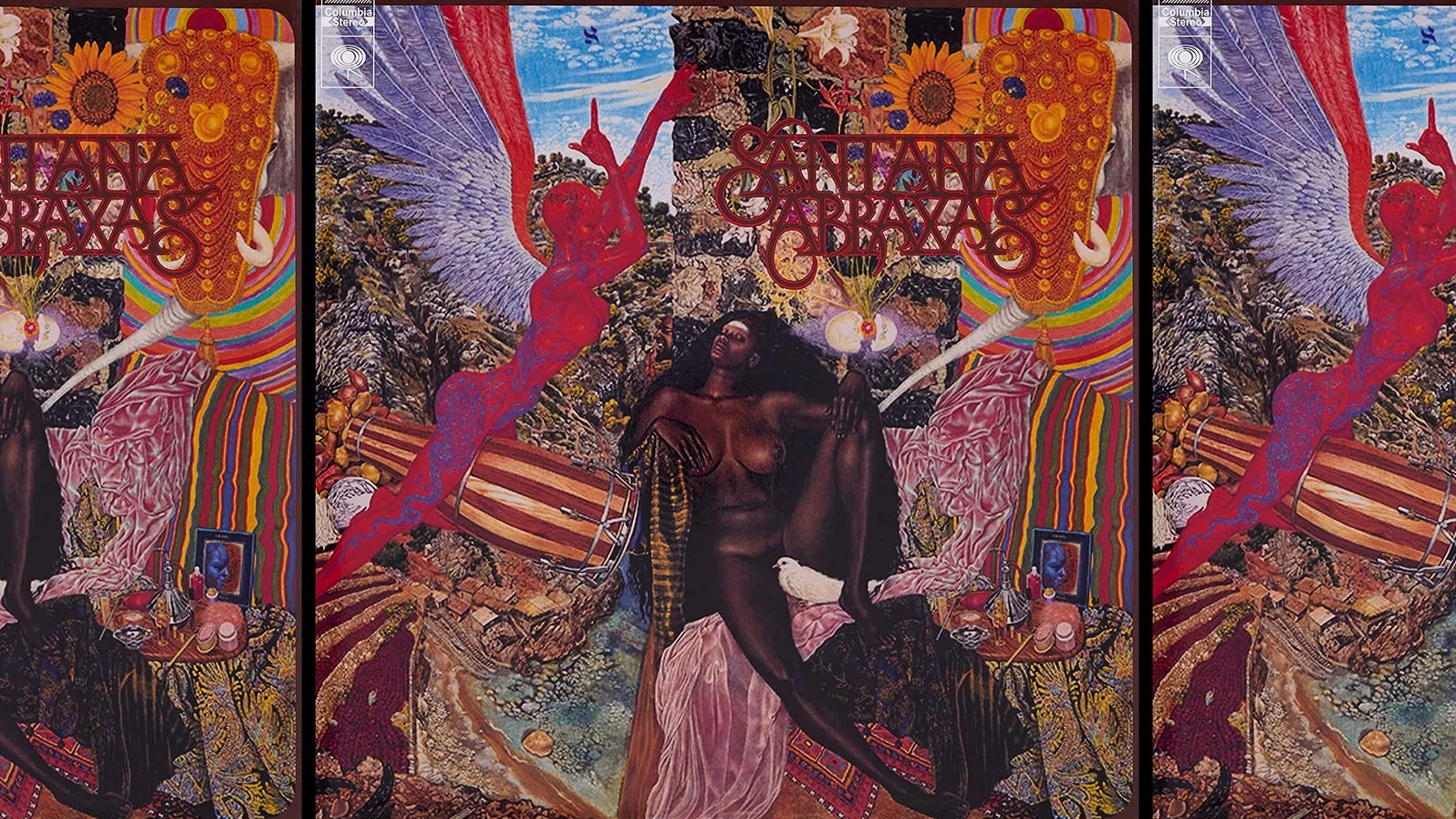 Story behind the record cover: Abraxas (1970) - Santana
My oldest brother lost his glasses in the Kralingse Bos, a small forest in the middle of Rotterdam, at the first big festival in the Netherlands in 1970. Big names like Pink Floyd, Soft Machine and Santana performed here. It was the European answer to the American Woodstock (1969). The festival was officially called 'Holland Popfestival 1970 - Rotterdam', but became known as the 'Kralingen Popfestival'. Love, peace & happiness on Dutch soil.
My big brother was my role model. Child of the hippie era. I was too young for the festival, but I was one of the first in the cinema, along with my brother, to watch the Woodstock festival film. Santana's performance blew me off my comfy cinema seat. Great music, with a mix of rock and Latin music. And of course the dazzling guitar playing of Carlos Santana.

My brother had already bought the first two Santana LPs. The covers were imaginative and the music was just as beautiful as what I had heard and seen in the Woodstock movie. This cover of "Abraxas" was banned from the living room by my father. It was not allowed to be played on his immaculate stereo system. Such a cover with a naked black woman. "This is getting ridiculous" he said in his specific accent when he first saw this cover.
I also got the occasional blush from this cover. How old was I? 13 years-old? I had never seen such a naked luscious 'Black Magic Woman'. Secretly, every Friday night, with my brother's approval, I would sneak the LP into my bedroom and listen to 'Black Magic Woman', played loudly on my headphones. It made a huge impression on me, time and time again.

At the first seventh grade party at my home, I also took the LP down. I had managed to kick my parents out of the house until eleven o'clock in the evening. My classmates were also very impressed with the cover. With the album cover, two of them took to the cellar where my father kept his wine stock. Completely drunk, I had to get them out of the cellar at a quarter to eleven.

After that, the LP has been somewhat forgotten because of my love for prog rock music. Until a colleague from pop stage Boerderij pointed out to me that the "Abraxas" cover was made by a famous artist, Abdul Mati Klarwein. The colleague lent me the book 'God Jokes, the art of Abdul Mati Klarwein'. Klarwein has drawn many album covers, including Miles Davis' "Bitches Brew", and "Last Days & Time" by Earth Wind & Fire. Klarwein was born in 1932 in Hamburg to artistic parents. His father belonged to the Bauhaus art movement from the 1920s. The family had to flee Germany because of their Jewish background and ended up in Paris. In the French capital, Klarwein came into contact with the work of artist Salvador Dali. His work became a source of inspiration for him, which is clearly reflected in his work. Like many young adults in the 1960s, Klarwein set out to discover the world. He ended up in California, where he met Jimi Hendrix, who introduced him to the music scene. He was soon asked to design record sleeves.

So did Carlos Santana. He had just read the book 'Demian' by Herman Hesse. He was particularly touched by one section: "We questioned the painting, berated it, made love to it, prayed to it: We called it mother, called it whore and slut, called it our beloved, called it Abraxas…." When Santana came across the painting 'Annunciation' by Klarwein (from 1961) in an art magazine, he knew: that should be the cover of the album that was to be called "Abraxas".

Fast forward more than fifty years. Music festivals are still as popular as they were during the hippie era. However, something has changed. Nowadays, people tend go to a festival for music and good food, and to a lesser extent to belong to a subculture and/or to rebel against one's parents. In fact, I now go to festivals with my sons. This year, for example, to the Best Kept Secret Festival in Hilvarenbeek in June.

Santana's music is also very much alive. On Friday May 13 tribute band 'The Magic of Santana' will play at De Boerderij. I shall attend the show, together with one of my sons. The story about the "Abraxas" album cover only made him smile. "And to think, grandpa thought this was outrageous."

Gerrit-Jan Vrielink
Thanks to Peter van Soest.