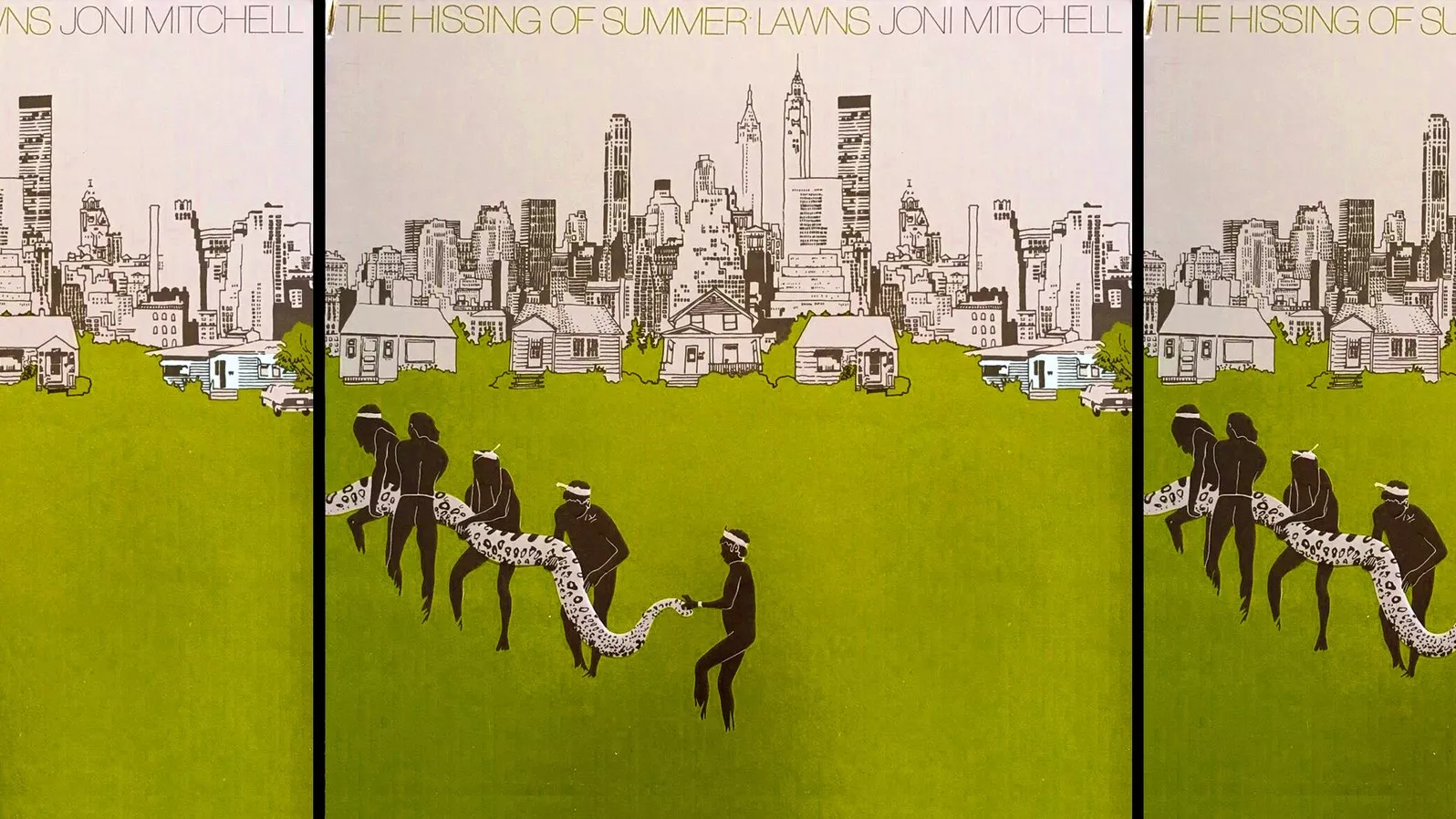 Story behind the record cover: The Hissing of Summer Lawns (1975) - Joni Mitchell
'There's a snake in the grass.' Loosely translated, this is the title of this album by Joni Mitchell from 1975. Watch out for appearances, they may deceive. Remember the fine print in a lease contract. Or the implicit obligation with a great offer ('First month for free!').

Joni Mitchell has a particularly big snake in the grass. The snake must be carried by six Africans (including the man on the back cover). The cover art was created by Joni Mitchell herself with a nod to a 1975 National Geographic photograph of a group of indigenous people holding a giant anaconda. In the background we see the Los Angeles skyline and houses from the suburbs. Neighborhoods where appearances are kept up and the lawn is neatly mowed. But behind this civilized surface there's a dark undercurrent. Joni Mitchell wants to portray this contradiction with the image on the cover and in the lyrics. She denounces the consumer society of the Americans while people in the developing world are starving. She also denounces themes such as small-mindedness and abuse with lyrics such as 'You are broken by the standards of the middle class through the churches and schools. Appearance must be maintained. As soon as you color outside the lines, it will be suppressed."

'Easy for her to say', the critics said about the lyrics on this album. Joni Mitchell had already made it, career wise. She lived in a beautiful house with a swimming pool as portrayed on the back cover. (On the inside of the cover she is relaxing in said pool). But was it always that easy for her?

As a Canadian, she left for New York at the end of the sixties, where she quickly made a name for herself in the world of country music with her high falsetto voice and unusual acoustic guitar sound (she tuned the strings in an unusual way). The reason for her departure from Canada? At the age of 18 she had become pregnant, unintentionally. That was a terrible shame in conservative Canada. The baby was handed over to a children's home and Mitchell left for America, alone with her guitar. Beneath the pretense of her music career there is this considerable snake in the grass. But she didn't tell anyone about it.

After New York she settled in Los Angeles, in Laurel Canyon, where country music and pop music came together at that time. A melting pot of legendary music from the likes of The Eagles, The Doors, and Crosby Stills Nash & Young. There she met Graham Nash and they fell madly in love; 'Our House' on CSN&Y's LP "Déjà vu" is about their relationship. But at a certain point, that became too stuffy for Joni Mitchell. She was still fighting her snake in the grass. She wrote Graham Nash a telegram that read: 'If you hold sand too tightly in your hand, it will run through your fingers'. And left once again, alone with her guitar, in search of a new world.

She ended up in the jazz rock scene and focused on this movement. Before that she made a world-class album, "Blue". Even after fifty years, this record is still widely acclaimed as one of the best albums of all time. She enjoyed the creative freedom she had with jazz rock musicians like guitarist Pat Metheny, keyboardist Lyle Mays, saxophonist Michael Brecker, and Weather Report bassist Jaco Pastorius. To me, the live album "Shadow and Light" from that time is still an absolute highlight of her extensive career.

But once again, there was this snake in the grass. In America it is not customary to switch music genres. You belong to one or the other. Country music aficionados crucified Mitchell for her new music with jazz-rock influences. The jazz rock critics disliked the blond lady from the country scene, with her lyrics about the injustice in the world. She made a lot of money herself. And yet no one knew about her demon snake. Until in 1993 her abandoned daughter, after more than thirty years, wanted to know the identity of her real mother. That turned out to be Joni Mitchell. They came into contact with each other and have since been reunited. But thirty years of missing her child has put a heavy strain on Joni Mitchell's life.

The cover of this album has always appealed to me since I was 18 years old. My brother was a big fan of Joni Mitchell's. At the time, I regularly babysat for him when he and his wife went to a political rally. Those meetings seemed to last forever, so I had plenty of time to go through his album collection. I read the three little ones a story, put them to bed, made a few more funny faces after which they fell asleep like a log. I wore the record out during that time. Since then, if someone tries to keep up appearances, I hear the hissing of a snake in the background.
Gerrit-Jan Vrielink