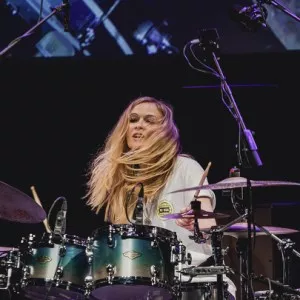 Interview met Anika Nilles
De Duitse Anika Nilles was drummer bij de in januari overleden Jeff Beck tijdens zijn laatste wereldtournee in 2022. Daarnaast heeft zij inmiddels drie albums op haar naam staan en ze treedt succesvol op met eigen band. Donderdag 25 mei staat Anika Nilles in de Boerderij. Wij stelden haar een aantal vragen.

You were the drummer with legendary and late Jeff Beck during his last world tour in 2022. On May 22 and 23 you are participating in the Jeff Beck Tribute at the Royal Albert Hall in London next to Eric Clapton, Johnny Depp, Joss Stone, Gary Clark JR, Rod Stewart and others. 
What are the most important things you learned form him and you take with you on stage? Or even bigger: take with you in life in general?
Playing with Jeff was a great inspiration, musically and humanly. What was most inspiring was how much he focused on the emotional part of the music. When he played, he was fully in emotional mode. That's something I'm also focusing on more now, and it's already had an impact on my live performances. Another very inspirational thing was to see how much he was still exploring and discovering new things to reach the next level. He wasn't just resting on what he had achieved. He was still driven by the power of music. 
You give drum lessons. As an educator you teach people how to play the drums. Do you also want to be an inspiration to others? 
It's not my intention to be an inspiration. In my role as an educator, my biggest goal is to understand the student and help to improve to reach the next level. I'm even not sure if it works out to be an inspiration to others if you have this on your bucket list, LOL. 


You have over 23 million views on online platforms. That's a huge number! How did this go?  
That's true! I still can't believe this when I see this huge number. I can not even tell how this happened. I didn't have any plans or intensions back in the day to have such an success with my videos. This is why I don't see myself as an "influencer" or as someone producing "content". I basically write music and share it with the world. I strongly believe that an own identity, hard work and dedication pays off on some point. Sometimes, maybe different than expected. 
You are a well respected drummer and you are rewarded several times for your talent and hard work. For example: you were nominated for the German Jazz Awards 2023 and last year you were named Drumeo Contemporary Drummer of the Year. Which drummer(s) are your inspiration?
There are a lot of drummers out there who are inspirational to me. Some are totally unknown but so so good! But of course there are some very specific inspirations who had an influence on my playing. These are for sure drummers like Jeff Porcaro from Toto, a band I grew up with. Adam Deitch, Jojo Mayer, Steve Jordan and Chris Coleman to name a few. Such as my teachers Jost Nickel and Claus Hessler who are still a source of inspiration.
On May 25 you are playing with your band at Poppodium Boerderij. Can you introduce your bandmembers to the readers?
Oh sure! We are really looking forward to this show since it will be our first Show in the Netherlands. The Band holds six members and turns out as a very international combo. We have Jonathan Cuniado on bass which is also the bass player for the great Trilok Gurtu. On Keyboards there is Patrick Rugebregt who is based in the Netherlands and also playing with Jeangu Macrooy. Next to Patrick there is Australian keyboard player and producer Simon Grey. On guitar will be Joachim Schneiss, which is also my longterm producer. Santino Scavelli from Italy and I will handle the drum and percussion department with the fire it needs. :-)
How do you describe your music? What can people expect May 25?
People can expect a show full of fire! Even if the music is pure instrumental fusion, the songs have an extra portion of strong melodies to follow up with. The band has a strong, energetic and emotional vibe which will easily cause a buzz in the audience. Our influences range from Jazz, Funk, Rock, Pop, and anything in-between. Everything is played live, no backing tracks, no hidden samples. It's a very pure show with lots of live improvisation. 

Meer info over en tickets voor donderdag 25 mei vind je HIER